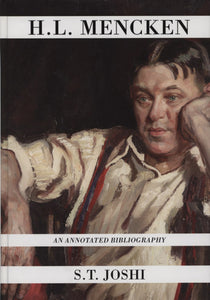 H.L. Mencken: An Annotated Bibliography | S.T. Joshi
Baltimore native Henry Louis Mencken (1880-1956) was an essayist, literary critic, magazine editor, novelist, and journalist. Starting as a reporter for the 
Baltimore Morning Herald
 at the turn of the century, Mencken eventually became associated with the 
Baltimore Sun
 and his work for the newspaper spanned five decades.

In 
H.L. Mencken: An Annotated Bibliography
, S.T. Joshi provides the most exhaustive and comprehensive bibliography of the writings of H. L. Mencken ever assembled. It presents detailed information on his book publications from 1903 to the present, with a full list of editions and reprints. Most significantly, it presents for the first time a comprehensive annotated listing of his magazine and newspaper work (including more than 1,500 anonymous editorials for the 
Baltimore Sun
, 
Baltimore Evening Sun
, and other papers, which have never been listed in any previous bibliographies), a thorough index to his book reviews, and a full list of interviews Mencken gave during his lifetime. Word counts of nearly every item in the bibliography have been supplied, and the book has been thoroughly indexed by name, title, and periodical.

Because every item has been annotated, scholars and students can, for the first time, gain an idea of the subject-matter of all Mencken's writings, especially his magazine and newspaper work. The indexes will allow users to locate any given item with ease. The chronological arrangement of each section allows users to understand the growth and development of Mencken's work, making this volume an invaluable resource.
---
We Also Recommend
---