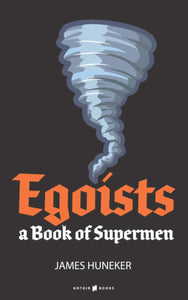 EGOISTS: a Book of Supermen
This diverting compilation of essays saw his first appearance in 1909 and explores the personalities and lives of some of the greatest artists, poets, writers, philosophers and mystics who have advocated the creed of individualism, in opposition to the sentiments of equality, brotherly love and socialism, that are so fashionable these days.
Amply discussed are Stendhal, whose readership is still growing; Maurice Barres, French Academician; Anatole France, blithe pagan and delicious ironist; Max Stirner, the forerunner of Nietzsche; The mystics, Ernest Hello, who is still somewhat new to American readers and William Blake.
Much new historical material can be found in the studies of Charles Baudelaire and Gustave Flaubert. The hitherto unpublished letter of the novelist, along with an original page proof of "Madame Bovary," corrected by his own hand, will prove of interest to his admirers. That brilliant virtuoso of the French language, J. K. Huysmans, forms the subject of a chapter, while certain phases of Nietzsche, and some Ibsen dramas, are also subjects of discussion.
Altogether the book represents a most mature critical and analytical view applied to some of the most interesting literary characters in the Europe of yesteryear.
---
We Also Recommend
---