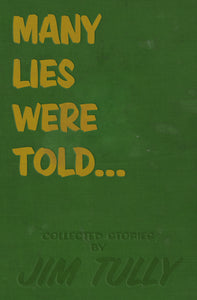 Many Lies Were Told | Jim Tully | #mybookcult
This is a collection of Jim Tully's short stories and essays that appeared in H.L Mencken's journal The American Mercury. This collection was printed exclusively for #mybookcult project, and a handful of extra copies are being made available to the public.
For fans of hobo tales and hard-boiled literature.
All items first appeared in The American Mercury:
"Bright Eyes," July 1925, Vol. V, No. 19
"The Lion Tamer," October 1925, Vol. VI, No. 22
"Bull Horrors," October 1927, Vol. XII, No. 46
"A California Holiday," January 1928, Vol. XIII, No. 49
"Two-Time Losers," March 1928, Vol. XII, No. 51
"Jungle Justice," April 1928, Vol. XIII, No. 52
"Thieves and Vagabonds," May 1928, Vol. XIV, No. 53
"The Giver of Life," June 1928, Vol. XIV, No. 54
"Shanty Irish," July 1928; Vol. XIV, No. 55
"Jailbirds," September 1928, Vol. XV, No. 57
"Sapping Day," April 1929, Vol. XVI, No. 64
"The Graveyard That Moved," July 1929, Vol. XVII, No. 67
"Yeggs," April 1933; Vol. XXVIII, No. 112
"Jack Dempsey," August 1933, Vol. XXIX, No. 116

---
We Also Recommend
---