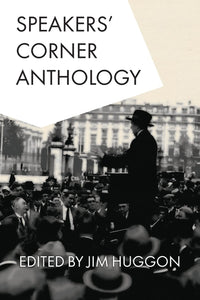 Speakers' Corner Anthology | ed. by Jim Huggon | SA1227
This new edition of the underground work is the first time it has been in print in 40 years. Expanded with an updated introduction, index and illustrations. Speakers' Corner in London's famous Hyde Park has been an oasis of free speech, and this collection highlights many of the eccentric figures and philosophies espoused there.

Originally issued in 1977 by Jim Huggon's Hyde Park Speakers' Union and Kropotkin's Lighthouse Publications. Huggon was a regular speaker himself, and wrote and published numerous titles relating to Anarchism and London Radicals.
"I spoke on the Hyde Park Anarchist Platform for eighteen years from 1965 to 1983. At one time, briefly, we had three anarchist platforms at Speakers' Comer because our views on anarchism were so different. Which is - of course - as it should be. In 1977 I edited and published Speakers' Corner Anthology, writings by speakers and about speakers plus photos and illustrations, until now out of print and quite rare. It included substantial extracts from Bonar Thompsons' autobiography plus a photo of Bonar in his famous black hat, plus a reproduction in full of his famous but now very rare journal The Black Hat." - Jim Huggon, editor.
---
We Also Recommend
---