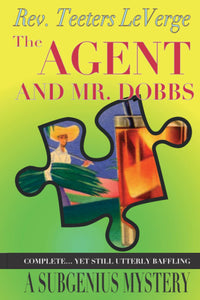 The Agent and Mr. Dobbs: A Subgenius Mystery | Rev. Teeters LeVerge & Rev. Ivan Stang
Two brain-gnarling spy thriller mystery novellas starring J.R. "Bob" Dobbs, under one cover!  Featuring a foreword by co-founder of the Church of the Subgenius, Rev. Ivan Stang.
In the early 1960s, an earnest, patriotic and Pink agent for the Feds is assigned to the seriously insane national security case of "Bob" Dobbs. He is drawn by Dobbs down a rabbit hole that turns into a wormhole of 'Frop madness, surreal sex with Connie, Bigfoot and Greys, bizarre parties with JFK, Hitler, Lee Harvey Oswald, Fidel Castro, Nikita Khrushchev, and Timothy Leary... and unspeakable experiences that make him question what he had mistakenly thought of as reality.

It's like H. P. Lovecraft by way of Raymond Chandler by way of R. Crumb. Like a David Lynch movie with a dollop of The Three Stooges. Like a Bugs Bunny cartoon guest-directed by David Cronenberg. Like an S. Clay Wilson comic novelized by Franz Kafka.
---

"I've written two SubGenius movie screenplays. But if some Hollywood hotshot approached me saying, "I've got a hundred million dollars for a big SubGenius movie. Do you have a script?" -- I would hand them this book. It is F**KING HILARIOUS and my very favorite portrait of 'Bob' so far. Let us just pray that it is indeed fiction." -- Rev. Ivan Stang
---
We Also Recommend
---