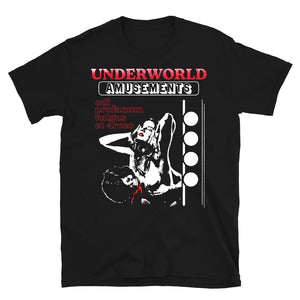 Horror Sleaze | 2021 UA T-Shirt Design
Show the world you're a precocious malcontent with trashy taste — and be a Satanic evangelist for our misanthropic propaganda while doing it — with this sleazy new graphic tee!
Every few years Underworld Amusements commissions an indie artist for a limited edition t-shirt design. This year Rebel Kind Design came up with what could easily pass as a banned 1980s horror-sleaze VHS tape cover, and we think it perfectly encompasses our aesthetic.
Only a few dozen of these wonderfully degenerate shirts have been made, and once they're sold out, they're gone!
---
We Also Recommend
---