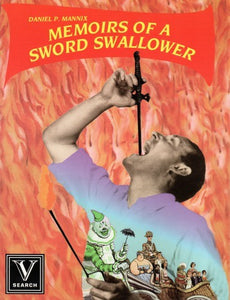 MEMOIRS OF A SWORD SWALLOWER | Daniel P. Mannix
By the author of Freaks, Memoirs of a Sword Swallower fits comfortably on the shelf alongside Freaks and Geeks and Nightmare Alley!
The book begins, "I probably never would have become America's leading fire-eater if Flamo the Great hadn't happened to explode that night…" So begins this true story of life with a traveling carnival, peopled by amazing characters (the Human Ostrich, the Human Salamander, Jolly Daisy) who commit outrageous feats of wizardry. This is one of the only authentic narratives revealing the "tricks" (or more often the lack thereof) and skills involved in a sideshow, and is invaluable to those aspiring to this profession. Having cultivated the desire to create real magic since early childhood, Mannix rose to become a top act within a season; here is his inspiring tale. NEW: RARE PHOTOS! This is the first edition to include photos of the actual characters in the book, most of them taken by Mannix himself in the '30s.
"A grotesque gallery of portraits of amazing human beings and a fascinating behind-the-scenes revelation of carnival life." --New York Times
Daniel P. Mannix died in 1997, but not before he had written more than 20 books detailing little-known history, mostly of the dark side. He is an unacknowledged American master historian.
---
We Also Recommend
---