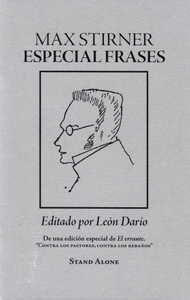 Max Stirner: Especial Frases | León Darío (Spanish) | SA1221
Max Stirner: Especial Frases by León Darío (editor of individualist-anarchist journal "El errante"). Spanish-language introduction to egoist and philosopher Max Stirner (1806-1856). First time in print.  Illustrated, 32 pages. Este folleto impreso en una edición de sesenta y seis copias.

---
El errante es única y estrictamente un medio de pensamiento, no busca convencer o iluminar a nadie, nos alegra si removemos alguna conciencia, eso es innegable. Somos disidentes anarquistas con la férrea necesidad de expandir nuestro pensar y la felicidad plena que nos da el hacerlo. El errante se edita desde Guadalajara, Castilla.
Contacto para colaboración: elerrante@yahoo.com
---
Stand Alone is a mixed medium and format journal produced at irregular intervals. The focus is Egoism and the individuals associated with it. Produced by the Union Of Egoists, but individual issues published by different sources.
Contact for collaboration: editor@unionofegoists.com
---
We Also Recommend
---