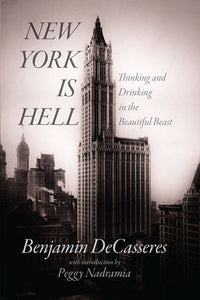 New York is Hell | Ben DeCasseres
Author: Benjamin DeCasseres
Introduction: Peggy Nadramia
Publisher: Underworld Amusements
Pages: 246 Size: 6x9"
Release date: November, 2016 ISBN: 978-0988553606
The fifth in a series reviving the work of Benjamin DeCasseres.
---
Benjamin DeCasseres
(1873-1945) was an Ironist, Critic, Poet, Epigrammist, Polemicist, God. He announced his candidacy for mayor of New York as a "Cubist Candidate" in 1913, vowing to "legalize human frailties," among other fine ideas. He was a comrade of H.L. Mencken, Charles Fort, James Huneker, George Sterling, Don Marquis and is a distant relative of Spinoza. His writing was published in a wide range of periodicals from Benjamin Tucker's radical anarchist
Liberty
, to the mainstream
Life
. He could be found in the pages of the New York Times, among other newspapers, and even on the radio. This is a collection of his writing solely focused on New York, but mostly about booze.
---
Peggy Nadramia
was born in the Hell's Kitchen neighborhood of Manhattan, was the editor of the award-winning horror publication
GRUE Magazine
, is one of the mixologists behind Cocktail Vultures, and also the current High Priestess of the Church of Satan.
---
We Also Recommend
---