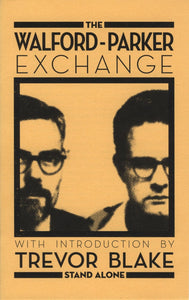 The Walford-Parker Exchange | SA1035 | Lt.Ed. 66
14th issue of the egoist journal "Stand Alone". The Walford-Parker Exchange by George Walford, Sidney E. Parker new introduction by Trevor Blake 36 pages, 5.5" x 8.5", Saddle-stitched
---
Limited to 66 copies.
---
The Walford-Parker Exchange, originally published in Ideological Commentary, is gathered here for the first time with a new introduction. In one corner we have George Walford (1919 - 1994) representing "Systematic ideology," and in another corner Sidney E. Parker (1929 - 2012) representing "Stirnerite egoism." Is "egoism" contradictory nonsense, or a self-evident description of the world? See these two articulate authors at odds in a friendly, informative exchange
---
Booklet shipping: Booklets have a special reduced shipping rate. The first is $3, and each additional is only .50 more.
---
We Also Recommend
---