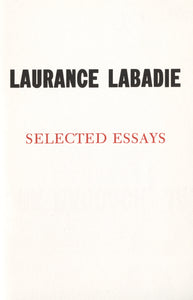 Selected Essays | Laurance Labadie | Libertarian Broadsides No. 7
edited by: James J. Martin
size: 5.5×8.5″ | pages: 76
---
Astute commentaries on a wide range of topics by a self-taught working man, covering nearly 40 years, in the tradition stretching from Josiah Warren, Benjamin R. Tucker, and P. J. Proudhon to contemporary individualist libertarian tenden­cies. Introduction and two appendices by James J. Martin.
The "Libertarian Broadsides Collection." was published by Ralph Myles Publisher, Inc. between 1967 and 1978. Edited by James J. Martin, these booklets were a serialized series of booklets reprinting (then) rare individualist/egoist tracts paired with new prefatory and editorial material.

This is not a facsimile but an "as new old stock" booklet from the estate of James J. Martin. While these are new and unread, some may show discoloration from being more than 30 years old.
---
Contents:
Introduction by James J. Martin 5
ECONOMICS
Anarchism Applied to Economics 19
Economics of Liberty 22
Reflections on Socio-economic Evolution 24
EDUCATION
What Is the Educational Problem? 27
Education—What For? 30
Regarding Man's Concern With Truth 32
SOCIAL AND POLITICAL PSYCHOLOGY
"All the World's a Stage" 35
Consideration of Some Basic Sociological Truths 36
On Man's Thinking 43
Excerpts From a Letter to a Friend Apropos Human Rights 47
PUBLIC AFFAIRS AND WORLD POLITICS
Origin and Nature of Government 51
War—What For? 52
From Nowhere to the Garbage Heap 54
Comment on the Proposals of Some Modern Saviors About Avoiding the Menace of Atomic War 56
What Is Man's Destiny? 61
Appendix I 67
Appendix II 75
---
We Also Recommend
---