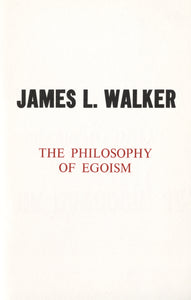 The Philosophy of Egoism | James L. Walker | Libertarian Broadsides No. 3
edited by: James J. Martin
size: 5.5×8.5″ | pages: 34
---
The most important work concerned with philosophical egoism originally written in the English language, first published in 1905. Includes the uncut first edition, with a photograph of the author and biographical sketch by the author's original publisher, Henry Replogle, and a foreword by James J. Martin.
The "Libertarian Broadsides Collection." was published by Ralph Myles Publisher, Inc. between 1967 and 1978. Edited by James J. Martin, these booklets were a serialized series of booklets reprinting (then) rare individualist/egoist tracts paired with new prefatory and editorial material.

This is not a facsimile but an "as new old stock" booklet from the estate of James J. Martin. While these are new and unread, some may show discoloration from being more than 30 years old.

---
Contents:

Introduction by S.E. Parker 3
Slaves to Duty by John Badcock Jr. 7
Egoism by John Beverly Robinson 31
---
We Also Recommend
---