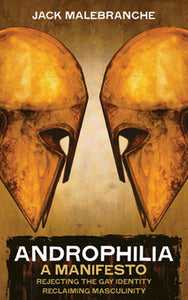 Androphilia: A Manifesto | Jack Malebranche
Rejecting the Gay Identity, Reclaiming Masculinity
144 pgs. | 5″x8″ | ISBN: 0-9764035-8-7
---
AS NEW OLD STOCK Original edition of a collectible book in new condition.
---
At once a self-assured embrace of homosexuality and an indictment of mainstream gay culture's celebration of perpetual victimhood, effeminacy and feminist gender theory, Androphilia presents homosexual desire in men not as a fixed orientation, but as a sexual fetish or taste. Jack Malebranche rejects the gay moniker completely, using instead the term androphilia—literally, 'the love of men'—to specifically discuss the unique dynamic of sexual desire and brotherly love between adult men.
Writing off the modern gay movement as 'latter day Uranism' and the gay identity as the appropriation of an emasculating stigma, Malebranche calls instead for the celebration of innate masculinity and an end to the self-loathing and male-bashing that characterizes contemporary gay discourse. A rare howl of street-level dissent against a culture defined and promoted by liberal academics, activists and professional victims, Androphilia is sure to challenge, anger and perhaps even inspire.
---
We Also Recommend
---