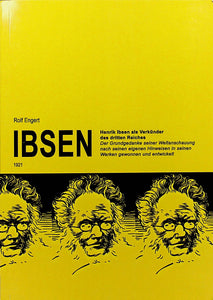 IBSEN als Verkünder des drittes Reiches | Rolf Engert (German)
From the  Verlag Max-Stirner-Archiv, this is a new edition of Rolf Engert's book on Ibsen. Please note: this book is in the German language.
The title translates to (Henrik) Ibsen as the Herald of the Third Reich. Note that term "third reich" here is used  to represent a synthesis between paganism and Christianity; rather a post-Christian empire. It does not make reference to the Nazi 3rd Reich.
This book is an extended form of this 1917 dissertation, originally published in 1921.
Imported from Germany. 
---
We Also Recommend
---