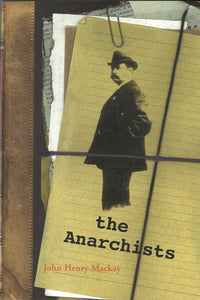 The Anarchists: A Picture of Civilization at the Close of the Nineteenth Century | John Henry Mackay
Post-centenary edition with essays by Hubert Kennedy, Edward Mornin, Sharon Presley, and Peter Lamborn Wilson.
Edited by Mark A. Sullivan
Autonomedia/Black Triangle Anti-Authoritarian Classics.

---
"Germany's Poet-Anarchist" John Henry Mackay (1864-1933), born in Scotland and raised in Germany, was an early associate of Die Autonomie, which published his first collection of radical verse, Sturm. His sojourn to London in 1887 became the basis of Die Anarchisten (The Anarchists), which won him world-wide fame. Leading the revival of interest in Max Stirner, Mackay authored the first biography of this most radical of the Young Hegelians and "forerunners of Nietzsche." And under the nom de guerre of Sagitta, he issued several homoerotic "Books of the Nameless Love," which -- with his anarchist "Books of Freedom," iconoclastic novels, stories, and poems -- won him Nazi condemnation just before he died in Berlin. The Anarchists was first published in English by Benj. R. Tucker, the anarchist editor of Liberty in New York City. It is a thinly-disguised autobiographical journey of transformation from revolutionary self-martyrdom to radical self-ownership. Mackay's authentic Kulturgemalde begins in Victorian London, its five million people struggling with poverty, class conflict, police brutality, and seething with proletarian discontent over the impending execution of of the Haymarket Anarchists in Chicago. Onto the scene come Carrard Auban -- a French revolutionary firebrand turned anarcho-individualist -- and Otto Trupp -- Auban's comrade-in-arms. With Trupp, Auban debates the merits of anarcho-communism, and takes the reader on radical walking tours of London. Set in London, Paris and Chicago, The Anarchists is a moving 19th-century tale of three cities.
---
We Also Recommend
---