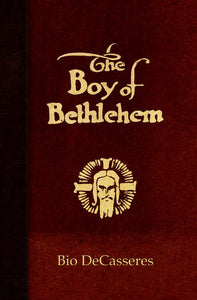 The Boy of Bethlehem | Bio DeCasseres | Hardback | SA1131 | Ltd. 2nd Ed. of 33.
Author: Adele Mary "Bio" Terrill DeCasseres
Introduction: Benjamin DeCasseres
Publisher: Underworld Amusements
Pages: 62 Size: 6x9"
Release date: July, 2023
The only book written by Adele Mary "Bio" Terrill DeCasseres, wife of Benjamin DeCasseres. Bio was the granddaughter of Stephen Mack Jr. (a fur trader known as "the first white settler in Illinois") and an Indian Princess named Hononegah.
---
Benjamin DeCasseres, in his introduction, says that "the literal doctrine of the virginal birth is a defamation of woman. It is a defamation of life. It is a defamation of sex-love. It is a blasphemy against Nature. It is a doctrinal crime against normal biological processes... It shames sanity and the flesh. It excommunicates Desire, the mother of art, genius, of all that is beautiful and of all that justifies life." Further, Ben states: "(Jesus) was not a God become man, but he was something immeasurably greater—a man become as a God through the necromancy of Art. He attained divinity on the wings of genius." It is in this spirit that this story of the Bastard of Bethlehem proceeds.
---
Limited second edition of 33. These are hard back, case bound books.
---
We Also Recommend
---