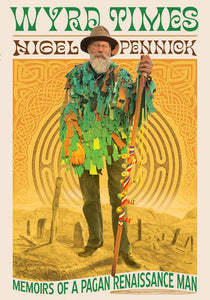 Wyrd Times: Memoirs of a Pagan Renaissance Man | Nigel Pennick
 Arcana Europa/Wild Lives, 362 pages, ISBN 9780972029223 
Many readers will know Nigel Pennick as the author of over fifty books on geomancy, folklore, paganism, and the runes. But who is Nigel Pennick?
In this comprehensive and convivial memoir, Pennick describes his formative years growing up in a London devastated by the Blitz. Beyond the obvious physical destruction wrought by the war, it was a world characterized by severe psychological trauma. For the adults in his life, this could lead to a spirit of callousness and disregard for human life. For his young contemporaries, it was the catalyst to question every received opinion and established institution. During his time as a biology student and scientific researcher, Pennick threw himself into the realms of alternative publishing, avant-garde art, and experimental music. Unlike the American counterculture, however, the British underground embraced elements of localism, ruralism, and the supernatural, which resonated in Pennick's consciousness (the recent popularity of the "folk horror" genre of film and literature is proof positive that these ideas have lost none of their imaginative appeal). While he rejected the naive political utopianism of his peers and shunned the excesses of the drug culture, it was these deeper themes of tradition and the spirit of place that would inform his career as a writer over the last half-century.
But Wyrd Times is more than just an inventory of Pennick's intellectual interests. Abundantly illustrated with rare material from his private archives, it is a rollicking ride through a personal universe populated with Dadaists and Diggers; dowsers and ley hunters; witches and toadmen; heathens, football hooligans, UFO fanatics, and eccentric outsiders of every stripe. What's more, it is a virtual catalog of the incredible array of roles Pennick himself has played throughout this unfolding drama: researcher and lecturer, scientist and magician, mummer and musician, artist and craftsman, and far-ranging traveler between worlds—both seen and unseen.
Throughout it all, Pennick's unique perspective and wry sense of humor shine forth, illuminating topics like art, religion, tradition, the nature of fate and mortality, and an undying spirit of personal resistance.
Nigel Pennick is the author of Elemental Magic (2020), A History of Pagan Europe (with Prudence Jones, 1995), Pagan Magic of the Northern Tradition (2015), The Spiritual Power of Masks (2022), Witchcraft and Secret Societies of Rural England (2019), and many more. His book The Eldritch World (2019) is available from Arcana Europa.
---
We Also Recommend
---