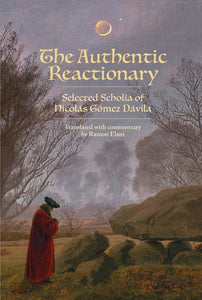 The Authentic Reactionary | Nicolás Gómez Dávila and Ramon Elani
"If I were not a communist, I would think like him in every way."—Gabriel García Márquez
The "renowned unknown" literary hermit Nicolás Gómez Dávila (1913–1994) was born in Bogotá, Colombia, where he spent most of his life. A brilliant writer of aphorisms—which he called scholia, or "glosses"—Gómez Dávila was a scathing critic of everything his contemporaries regarded as unequivocally good: progress, democracy, egalitarianism, and technology. By the middle of the last century, he already sensed the civilized world was becoming "part bordello, part dungeon, and part circus."
Yet Gómez Dávila rejected the political solutions offered up by ideologues of both the Left and the Right, whose activism he identified as a fatal symptom of the modern mindset. Instead, he advocated and practiced a sort of "inner emigration," which provided him a mental and spiritual redoubt against la tragedie humaine. Describing himself as a "pagan who believes in Christ," Gómez Dávila's greater commitment was to the sacred dimension of ritual and tradition, which transcends every historical crisis—whether real or manufactured.
Featuring an extensive introduction as well as incisive commentary by translator Ramon Elani, The Authentic Reactionary will provide much of the English-speaking world with its first glimpse into the mind of a sagacious polemicist whose contrarian reflections seem more prescient by the day. For those who hold out hope for this world, Gómez Dávila's acerbic musings will be a difficult pill to swallow. For those whose faith lies beyond this world, on the other hand, Gómez Dávila's words may come as a source of solace in an ever-darkening—but ultimately transitory—age.
Arcana Europa, xxxiii + 206 Pages, ISBN 979-8986223414
Nicolás Gómez Dávila was the author of four volumes of scholia (numbering more than 10,000 in total) and several essays. Educated as a young man in Paris, he later refrained from pursuing any advanced studies. Nevertheless, in 1948 he was part of a group of intellectuals who established the University of the Andes in Bogotá, which is today the most prestigious Colombian institution of higher learning. His personal library—in which he frequently sequestered himself to read, muse, and write—consisted of more than 30,000 volumes in all the major European languages and encompassed the great thinkers from antiquity to the modern age.
Ramon Elani holds a PhD in English Literature. His first book, Wyrd against the Modern World, appeared in 2021. He has published widely on myth, tradition, spirituality, and ecology. A retired Muay Thai fighter, Ramon coaches Muay Thai and Mixed Martial Arts. He lives in rural New England, where he raises goats and homeschools his children.
---
We Also Recommend
---