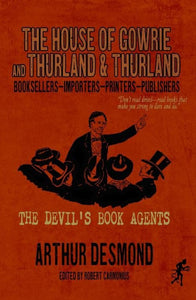 THE HOUSE OF GOWRIE and THURLAND & THURLAND: THE DEVIL'S BOOK AGENTS | Arthur Desmond
Autor: Arthur Desmond, aka Ragnar Redbeard
Editor: Robert Carmonius
Release date: February 2021
Size: 6x9"
Pages: 392
ISBN: 978-9198593266

THE HOUSE OF GOWRIE and THURLAND & THURLAND:
THE DEVIL'S BOOK AGENTS

Step inside the wonderful world of a 1900s Bookselling business. Booklists including historic and important must-read books, and works from: Niccolo Machiavelli, Friedrich Nietzsche, Max Stirner, Herbert Spencer, Oscar Wilde, Ragnar Redbeard, Malfew Seklew, Count Leo Tolstoy, Francis Lord Bacon, Ernest Pack, Sir Samuel Fergusson, Alphonse Daudet, Bart Kennedy, and Emile Souvestre.
RADICAL BOOKS—FOR OR AGAINST ANYTHING.
Famous must-read books for men and women on every "ISMS." Under the pseudonyms: Gavin Gowrie, and Richard Thurland, Arthur Desmond sold books by mail through "The House of Gowrie" and "Thurland & Thurland," Evanston, Chicago.
"A Thousand Books of Fame."
FREEMASONRY—"The Open Road To Damnation." The pamphlet is brilliantly written, is extremely aggressively vitriolic. It speaks of the hidden "Black Degrees" and the "Adoration of Satan."

"THE COMING SLAVERY," By Herbert Spencer. For all men interested in social change or reform. Socialists, populists and prohibitionists are invited to read this.

"THE GOSPEL ACCORDING TO MALFEW SEKLEW," By Malfew Seklew. (F. M. Wilkesbarre)

"WHAT IS THE PURPOSE OF LIFE?" By Dr. Fridtjof Nansen, Arctic Explorer.

"THE VIRGIN'S GOD-CHILD," By Emile Souvestre.

"THE POPE'S MULE," By Alphonse Daudet.

"Don't read drivel—read the books that make you strong to dare and do." —Arthur Desmond.
---
We Also Recommend
---