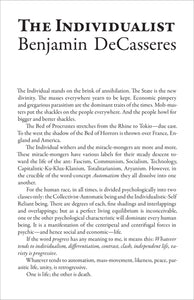 The Individualist | Benjamin DeCasseres | SA1180
Booklet, 5.5x8.5", 8 pages.

This booklet serves as a polemic for individualism by way of introduction to Georges Palante. Through a series of quotations and from the Frenchman, followed by his own explication, DeCasseres expounds on his own ideas.

This essay is the first featured in The Individual Against Moloch (1936), the second installment of "The DeCasseres Books." In 1936 Benjamin DeCasseres took it upon himself to try to publish as much of his own work as he could, printing through "Blackstone Publishers." In the following three years he published 23 booklets.
---
"Individualism is not an object of proselytism. It has value in its own eyes only as a personal sensation of life."
The real Individualist is thus an Epicurean. He lives for experiences. He reacts to each experience differently. No Individualist seeks to make any one else an Individualist. He aims at the unique. He loves the unique in others. "He who calls himself a Whitmanite has not understood me," said Walt Whitman.
The Individualist is a disciple of his own moods, his own sensations, his own emotions and instincts. His life is an adventure in psychological vistas, in comic and dramatic situations of which he himself is always the hero.
To the Individualist life is a series of experiences, not a programme. The only discipline that he willingly assents to is self-imposed. He absorbs whatever he needs, and always stands at a distance from his environment and "the times."
---
We Also Recommend
---