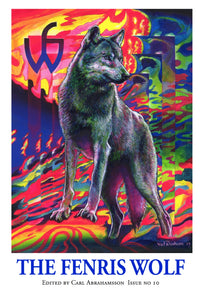 The Fenris Wolf 10 | Carl Abrahamsson (ed.)
This jubilee volume contains material by Ludwig Klages, David Beth, Henrik Dahl, Peter Sjöstedt-H, Jesse Bransford, Max Razdow, Christopher Webster, Kendell Geers, Kadmus, Billie Steigerwald, Fred Andersson, Zaheer Gulamhusein, Charlotte Rodgers, Craig Slee, Damien Patrick Williams, Philip H. Farber, Thomas Bey William Bailey, Mitch Horowitz, Ramsey Dukes, Anders Lundgren, Peggy Nadramia, Nina Antonia, Jack Stevenson, Andrea Kundry, Joan Pope, Genesis Breyer P-Orridge, Vanessa Sinclair, Claire-Madeline Corso, and Carl Abrahamsson...
... On topics as diverse as magico-anthropology, sexual magic, eroto-psychedelic art, Friedrich Nietzsche's use of psychoactive drugs, the occult meaning of the Fenris Wolf in Scandinavian Asatro, joint dreaming, mytho-historical traces within Völkish photography, the magic and influence of African art, disease as magical incentive, Cripkult, daoism, buddhism and machine consciousness, memetic entities, memetic magick, the transformative power of causative thinking, an interview with author Gary Lachman about Colin Wilson and his magical writings, dark Hollywood, Mike "Hellboy" Mignola and the Lovecraft connection, the full story of Benjamin Christensen's cinematic masterpiece "Witchcraft Through the Ages (1922), the full story of Anton LaVey's Satanic Bible, the gnostic-alchemical eroticism in the art of Joan Pope, Genesis P-Orridge's memories of a life of occultural experimentation, and much more…
"Wherever we look in and into time and space, there is that one fundamental phenomenon which seems more ingrained and integrated in the human psyche than anything else. Soundly embedded inside the survival instinct, the human being's relationship to magic has never really disappeared." – Carl Abrahamsson, from the chapter "Onwards to the Source!"
Trapart Books 2020. Cover art by Val Denham. 6 x 9" paperback. 422 pages.
---
We Also Recommend
---