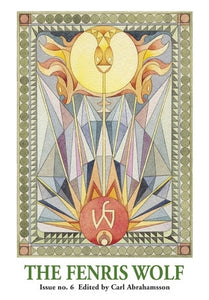 The Fenris Wolf 6 | Carl Abrahamsson (ed.)
The Fenris Wolf is a research journal focused on the human mind, developments in comparative magico-anthropology, and on the occultural implications and applications of these fields of study. Edited by Carl Abrahamsson. This volume, the sixth, contains material by Genesis Breyer P-Orridge, Michael Horowitz, Frater Achad, Timothy O'Neill, Anton LaVey, Freya Aswynn, Nema, Philip Farber, Kendell Geers, Sasha Chaitow, Shri Gurudev Mahendranath a.k.a. Dadaji, Derek Seagrief, Robert Taylor, Marita, Aki Cederberg, Renata Wieczorek, Gary Dickinson, Vera Nikolich, Robert Morgan, Henrik Bogdan, Alexander Nym, Sara George, Anders Lundgren and Carl Abrahamsson, on topics as diverse as occult London, Tantric quests, rune magic and neurology, Cannabis, LSD, entheogenic influences on culture, the Mega Golem, Aleister Crowley in China, Bogomil Gnostics, decadent French author Josephin Péladan, the birth and death horoscopes of the Great Beast 666, Liber AL vel Legis, the psycho-sexual surrealism of Hans Bellmer, healing, death, the extraterrestrial origins of language, Ernst Jünger's psychedelic approaches, recent Satanic cinema, the occult potential of contemporary physics, "Babalon" as a magical formula, the mystical art of Sulamith Wülfing and a never before published poem, The Litany of Ra, by Charles Stansfeld Jones a.k.a. Frater Achad. And more…
Cover art by Fredrik Söderberg
Carl Abrahamsson – Editor's Introduction
Frater Achad – A Litany of Ra
Kendell Geers – Tripping over Darwin's Hangover
Vera Nikolich – Eastern Connections
Carl Abrahamsson – Babalon
Freya Aswynn – On the Influence of Odin
Marita – Runic Magic through the Odinic Dialectic
Aki Cederberg – Afterword: The River of Story
Shri Gurudev Mahendranath – The Londinium Temple Strain
Gary Dickinson – An Orient Pearl
Derek Seagrief – Aleister Crowley's Birth & Death Horoscopes
Tim O'Neill – Shades of Void
Nema – Magickal Healing
Nema – A Greater Feast
Philip Farber – Sacred Smoke
Robert Taylor – Death & the Psychedelic Experience
Michael Horowitz – LSD: the Antidote to Everything
Alexander Nym – Transcendence as an Operative Category...
Carl Abrahamsson – Approaching the Approaching
Renata Wieczorek – The Secret Book of the Tatra Mountains
Sasha Chaitow – Legends of the Fall Retold
Sara George & Carl Abrahamsson – Sulamith Wülfing
Robert C Morgan – Hans Bellmer
Genesis Breyer P-Orridge – Tagged for Life
Carl Abrahamsson – Go Forth and Let Your Brain-halves Procreate
Anders Lundgren – Satanic Cinema is Alive and Well
Anton LaVey – Appendices
Originally published 2013.
Standard Edition: 294 pages, 6 x 9", paperback. Trapart Books 2021.
---
We Also Recommend
---