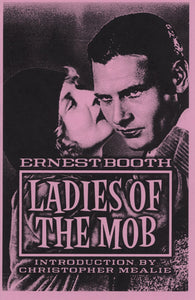 Ladies of the Mob | Ernest Booth, Christopher Mealie (intro) | Lt. Ed. 99
Ernest Booth was in and out of prison his whole life. During one of his stints, Hobo writer turned Hollywood Gossip Columnist Jim Tully convinced him to turn his experiences into prose. He then appealed to H.L. Mencken to publish Booth in his literary journal The American Mercury. "Ladies of the Mob" published in that journal in December 1927.

Introduction by film historian Christopher Mealie, giving some context to both the author, his short story and the lost Hollywood film it inspired.
Limited edition of 99 copies.
33 Bubblegum Card over Cotton Candy Interior
33 Bubblegum Card over White Interior
33 Gray Kraft Card over White Interior

---
We Also Recommend
---