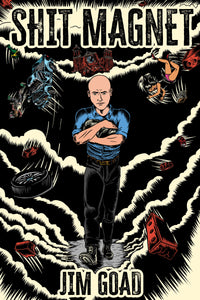 Shit Magnet | Jim Goad | Signed
Written entirely while incarcerated, this is Jim Goad's autobiographical rumination on the nature of guilt and scapegoating.
New York Press said:
"Shit Magnet is a relentlessly sad, ugly, hateful, raging, repellent, violent and brutally candid memoir-manifesto. It's as hard to put down as it is to read. Think Celine, or Klaus Kinski's rabid autobiography. Mostly it's about Goad working out a rationale not only for his own violence, but for a generally violent world."
Chapter titles:
Overture: Drowning in Shit • The Lingering Effects of Prenatal Violence • A Bad Seed Takes Root • Standing Alone at the Edge of a Crowd • A Womb of Our Own • You Haven't Killed Me Yet • Obscenity • The White House Shooter • The Hundred and First Spectacular Suicide • My Year With Anne • My Last Day With Anne • Roadkill • I'm a Lonesome Fugitive • State of Oregon v. James Thaddeus Goad• Angels With Black Eyes • Hell, Inc. • The Nicest Guy on Earth • Death: Yours and Mine
---
We Also Recommend
---