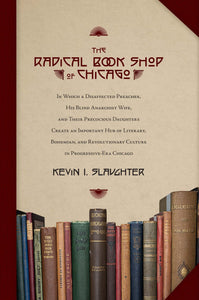 The Radical Book Shop of Chicago | Kevin I. Slaughter & Lillian H. Udell
Title: The Radical Book Shop of Chicago
Subtitle: In Which a Disaffected Preacher, His Blind Anarchist Wife, and Their Precocious Daughters Create an Important Hub of Literary, Bohemian, and Revolutionary Culture in Progressive-Era Chicago
Author: Kevin I. Slaughter, with texts by Lillian H. Udell
Paperback | 5.5 x 8.5", 128 pages | Price: $16.95 | ISBN: 978-1-943687-28-2
Step into the history of The Radical Book Shop of Chicago, a forgotten hub of anarchist, unionist, socialist, and communist literature. From its humble beginnings in 1914, this bookstore inspired revolutionaries and welcomed poets, novelists, roughnecks, and even would-be assassins around its iron stove. Despite police and political harassment, for over a decade the Radical Book Shop remained a beloved destination for rebels and intellectuals alike.
Howard and Lillian H. Udell founded this "shoebox-sized" bookstore out of desperation using their personal library. The curious and precocious Udell daughters helped them run the tiny outlet, where they grew up with habitués such as union tough guy Big Bill Haywood and his Wobblies; literary luminaries Kenneth Rexroth, Sherwood Anderson, Ralph Chaplin, and Carl Sandburg; the wild hobohemians of the Dil Pickle Club and Bughouse Square; artist Stanisław Szukalski;  and notorious outsiders like Arthur "Ragnar Redbeard" Desmond (author of Might is Right) and Nestor "Jean Crones" Dondoglio (mastermind behind the infamous 1916 "soup-poison plot").
The Radical Book Shop of Chicago by Kevin I. Slaughter is a thoroughly researched and prolifically illustrated history of this incredible hub of political and artistic dynamite. With an appendix of all known writings by Lillian H. Udell, including a biographical sketch of Voltairine De Cleyre, and reviews of several books published by Charles H. Kerr. Whether you're interested in the hidden history of radical politics and literature, or simply curious about the influential figures who frequented the store, this book is a must-read.
---
About the Author:


Kevin I. Slaughter is an archivist and publisher, specializing in forgotten and neglected works, generally of a subversive nature. Through his publishing house Underworld Amusements and his research project Union of Egoists, he has published well over a hundred books, booklets, and more. The Radical Book Shop of Chicago  is his authored book.
Kevin has made a particular effort to revive the writing of two men who were both poets and journalists: Philadelphia born, New York transplant Benjamin DeCasseres (1873–1945); and New Zealand born, Chicago transplant Arthur Desmond (1859–1929). Over the past dozen years he has ushered into print dozens of lost or neglected works by the two men, and also produced new research on their lives and writing.
When not mining the past for dissident and heretical treasures, Kevin is a working stiff, a gardener, and dachshund wrangler.
---
We Also Recommend
---