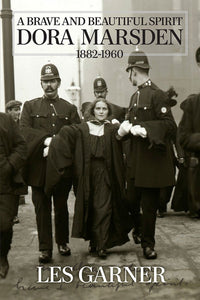 A Brave and Beautiful Spirit: Dora Marsden, 1882-1960 | Les Garner
Suffragette. Egoist. Philosopher.
---
Dora Marsden (1882 – 1960) burst the chains keeping women from education; burst the chains keeping women from the vote; burst the chains of conservative feminism; burst the chains of philosophy, of time and of language. From her near-anonymous birth, to shouting down Winston Churchill, to pioneering publications, to condemnation to decades in a mental hospital, A Brave and Beautiful Spirit by Dr. Les Garner is the first and foremost record of the life of Dora Marsden. Her journals of literature and philosophy were among the earliest to publish James Joyce, Ezra Pound, H. D., Margaret Storm Jameson and T. S. Eliot. She was described as "the Max Stirner of Feminism." Her works on philosophy and theology have yet to be answered.
---
"One of the most marvelous personalities that the nation has ever produced. She had, to begin with, the most exquisite beauty of person. She was hardly taller than a child, but she was not just a small woman; she was a perfectly proportioned fairy. She was the only person I have ever met who could so accurately have been described as flower-like that one could have put it down on her passport. And on many other planes she was remarkable" —Rebecca West. "Had more courage than any other man of the nation." —Emmeline Pankhurst.
---
Newly revised, expanded and corrected. New Foreword by the author.
---
Dr. Les Garner (b. 1952, Oldham) has worked in England for many years in Further and Higher Education, mainly at the University of Greenwich teaching History, Politics and Teacher training. He is also the author of Stepping Stones to Women's Liberty: The Ideas of the Women's Suffrage Movement 1900-1918 (Gower Press 1994). A committed socialist, longstanding trade unionist and organiser, he has been an activist in the Labour Party since 2015.
---
We Also Recommend
---