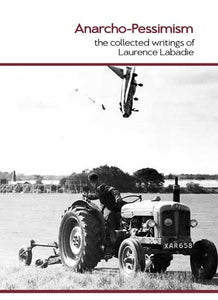 Anarcho-Pessimism | Laurance Labadie
Son of Joseph Labadie (of the famed Labadie Collection in Ann Arbor), Laurance Labadie out-distanced his father as a thinker and a polemicist, Laurance had the good luck to have been in consistent contact with some of the best writing by the American individualist anarchist tradition. Through a series of ingenious counterpoints and elaborations he managed to make of it something entirely new and much more threatening. The vanished anarchism of this deep-rooted radical tradition was the mutinous wellspring into which Labadie dipped endlessly throughout his life, but Labadie is set off from both his father and his other individualist predecessors (like Benjamin Tucker) by his confrontational tone, his sureness of purpose, and his un-matched disillusionment regarding the utter emptiness of all human endeavors.
---
NOTICE:These are small press/anarchist made books and may have flaws or other marks of DIY imperfection.
---
We Also Recommend
---