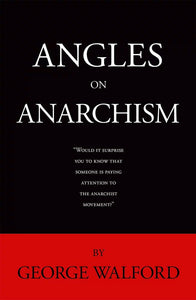 Angles on Anarchism (Exp./Rev.) | George Walford + Trevor Blake
When did anarchism start? Where did it come from? Where is it going? Were the Gnostics anarchists? The foragers? Did anarchy produce the state? "Anarchism is a movement of the working class, of the poor and the oppressed." If so, what were Prince Peter Kropotkin and Michael Bakunin, son of a Russian landowner, doing as anarchists? And William Morris, who lived on the income from his family's investment in Cornish mines? "Anarchists don't form parties." Don't they? One British political party, older than any anarchist now active, works for anarchist ends. "Anarchy means co-operation." Then why are anarchists now divided into conflicting groups? "Anarchism became a large and popular movement in Spain during the Civil War." Those who fought on the Republican side were supporting a government. Can anarchists do this? Many anarchists favour feeling, emotion and direct response, condemning logic as part of the power syndrome that supports the state. Can there be another logic, one that meets these objections?
---
New introduction by Trevor Blake. Comprehensive reviews and criticisms. Original Index.
---
We Also Recommend
---