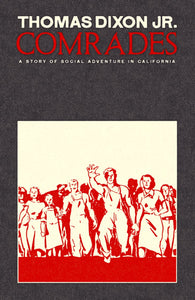 Comrades: A Story of Social Adventure in California | Thomas Dixon Jr.
The idiots at DUNCE BOOKS are back with another weird but wonderful new release of forgotten old material! Comrades: A Story of Social Adventure in California offers a comedic and dramatic perspective on socialist radicals and their ideas of utopian communities from the turn of the century. The author, Dixon, is a renowned Southern romance writer who has crafted a thought-provoking satire that sheds light on the dynamics of such communities.
Drawing inspiration from the works of Upton Sinclair, Dixon's story is certainly also inspired by the rise and near-immediate failure of Sinclair's Helicon Home Colony community. The characters in the book are reminiscent of those found in the milieu of disgruntled radicals of the previous century.
Although the book has received mixed reviews, with H.L. Mencken offering a scathing critique, it has also garnered praise from notable authors such as George Orwell. The book has been compared favorably to Orwell's own classics, 1984 and Animal Farm.
---
We Also Recommend
---