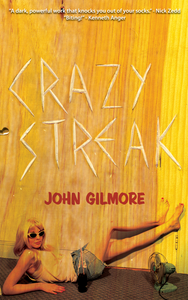 Crazy Streak | John Gilmore
192 pgs. | 5″x8″
ISBN: 0-9764035-1-X
CRAZY STREAK is a twisted excursion into seething sexuality, desperate alienation, incest and conscienceless violence; a book destined to be as controversial as Nabokov's "Lolita."
The wreck that really begins the novel is also what ends it. Long past the settling of steel and rubber, the bodies and brains of the travelers are beaten and twisted by hate, lust, booze and the sick heat of the Southern California desert wasteland.
This story is brutal in its realism. No fairy-tale romance or overly convoluted plots needed. It's not ironic or kitschy; it's certainly not begging to be loved.
CRAZY STREAK is as believable as some of your worst, most confused and visceral moments.
ABOUT THE AUTHOR:
Acclaimed internationally for his literary fiction, his hard-boiled true crime books and Hollywood memoirs, John Gilmore has a following that spans the globe from Hong Kong to Hollywood. He is the author of Laid Bare: A Memoir of Wrecked Lives and the Hollywood Death Trip, Severed: The True Story of the Black Dahlia Murder, Manson: The Unholy Trial of Charlie and His Family, and others.
"John Gilmore is one of America's natural-born gifts to literature. His books aren't just wicked and inspiring by-products of genius: they're miracles. I don't know how he keeps telling the truth of things when so much of our mental landscape is shrouded in darkness and stupidity. I adore him. He's the best ever."
– Gary Indiana.
---
We Also Recommend
---