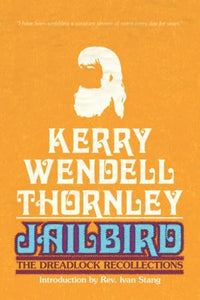 Jailbird: The Dreadlock Recollections | Kerry Thornley & Rev. Ivan Stang
"At the risk of sounding paranoid, I don't think it is a coincidence that I am famous only among conspiracies." -- Kerry W. Thornley
First time in print, with an introduction by Reverend Ivan Stang of The Church of the SubGenius. The complete confessions of Kerry Wendell Thornley, co-founder of The Discordian Society, to his role as second-patsy in the assassination of John F. Kennedy.
Some know Kerry Thornley as the witty co-author of The Principia Discordia, the 'bible' of the Discordian faith, a noble predecessor of The Church of the SubGenius -- to which Thornley was also a contributor. He is known as well for more serious endeavors, such as his novel The Idle Warriors, and for having to defend himself against accusations of involvement in the assassination of President John F. Kennedy.
This book is a compilation of his written memoirs concerning his many conversations with two men that he was later convinced were indeed directly involved in the murder of JFK. Includes an appendix of miscellaneous funny Thornley rants, and a very detailed index.
"I dig the SubGeniuses because, like them, my IQ is also below genius. So, in spite of my disagreements with them, the world looks to me just as bewildering and frightening as it looks to them. Probably, there are Discordians who feel every which way about everything, including "Bob" Dobbs." -- Kerry W. Thornley
326 pages, 6x9" paperback.
---
We Also Recommend
---