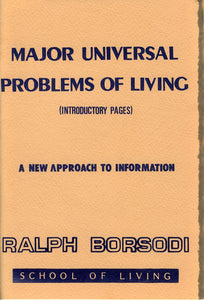 Major Problems of Universal Living (Introduction) | Ralph Borsodi
This booklet is an introductory and sampler to Ralph Borsodi's 1968 opus Seventeen Problems of Man and Society, a 600 page book that is itself a distillation of thousands of pages of manuscript that constitute a culmination of his life's work trying to categorize and solve the basic problems of life.
---
Note on quality options: There are two price levels for booklets. Many have some damage from storage, including some water damage or possibly rusting staples, and those are available as "B Quality" at a discounted rate. The interior should be clean and readable, with very minor, if any issues.
---
We Also Recommend
---