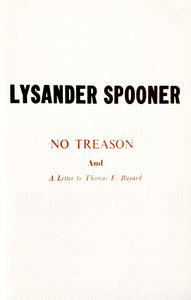 No Treason | Lysander Spooner | Libertarian Broadsides No. 5
edited by: James J. Martin
size: 5.5×8.5″ | pages: 72
---
An electrifying post-Civil War critique of the US Constitution by one of the great dissident legal minds of the 19th century, challenging its status as a contract and charging that all office-holding, consequently, was an invalid exercise of pow­er. Introductions and an afterword by James J. Martin.
The "Libertarian Broadsides Collection." was published by Ralph Myles Publisher, Inc. between 1967 and 1978. Edited by James J. Martin, these booklets were a serialized series of booklets reprinting (then) rare individualist/egoist tracts paired with new prefatory and editorial material.

This is not a facsimile but an "as new old stock" booklet from the estate of James J. Martin. While these are new and unread, some may show discoloration from being more than 30 years old.

---
We Also Recommend
---