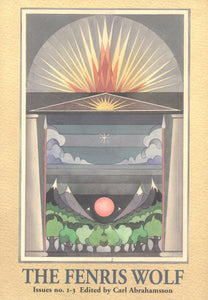 The Fenris Wolf 1-3 | Carl Abrahamsson (ed.)
The humble beginnings of the renowned magico-anthropological journal, covering occulture, psychedelia and sexuality (and then some!). The first three issues are here anthologised in one volume. Originally published by editor Carl Abrahamsson between 1989-1993, and then republished by Edda Publishing in 2011. This digital edition is brought to you by the publishing house that carries on publishing The Fenris Wolf today: Trapart Books.
Edited by Carl Abrahamsson. Cover art by Fredrik Söderberg.
Contents:
Carl Abrahamsson Editor's Introduction
Carl Abrahamsson 'Zine und Zeit (2011)
The Fenris Wolf 1 (1989)
John Alexander: The Strange Phenomena of the Dream, Helgi Pjeturss: The Nature of Sleep and Dreams, Tim O'Neill: A Dark Storm Rising, Carl Abrahamsson: Inauguration of Kenneth Anger, Carl Abrahamsson: An Interview with Genesis P-Orridge, William S Burroughs: Points of Distinction between Sedative and Consciousness-Expanding Drugs, Carl Abrahamsson: Jayne Mansfield – Satanist, TOPYUS: Television Magick, Anton LaVey: Evangelists vs The New God
The Fenris Wolf 2 (1990)
Lionel Snell: The Satan Game, Carl Abrahamsson: In Defence of Satanism, Anton LaVey: The Horns of Dilemma, Genesis P-Orridge: Beyond thee Valley ov Acid, Phauss: Photographs, Jack Stevenson: 15 Voices from God, Jack Stevenson: 18 Fatal Arguments, Tim O'Neill: Art On the Edge of Life, Terence Sellers: To Achieve Death, Stein Jarving: Choice and Process, Tim O'Neill: Under the Sign of Gemini, 93/696: The Forgotten Ones In Magick, Tim O'Neill: The Mechanics of Maya, Coyote 12: The Thin Line, Genesis P-Orridge: Thee Only Language Is Light, Jack Stevenson: Porno on Film, Carl Abrahamsson: An Interview with Kenneth Anger
The Fenris Wolf 3 (1993)
Jack Stevenson: Vandals, Vikings and Nazis, von Hausswolff & Elggren: Inauguration of two new Kingdoms, Tim O'Neill: A Flame in the Holy Mountain, Frater Nigris: A Preliminary Vision, Carl Abrahamsson: The Demonic Glamour of Cinema, William Heidrick: Some Crowley Sources, Peter H Gilmore: The Rite of Ragnarök, ONA: The Left-Handed Path, Zbigniew Karkowski: The Method Is Science..., Fetish 23: Demonic Poetry, Ben Kadosh: Lucifer-Hiram, Freya Aswynn: The Northern Magical Tradition, Anton LaVey: Tests, Austin Osman Spare: Anathema of Zos, Rodney Orpheus: Thelemic Morality, Nemo: Recognizing Pseudo-Satanism, Philip Marsh: Pythagoras, Plato and the Hellenes, Terence Sellers: A Few Acid Writings, Hymenæus Beta: Harry Smith 1923-1991, Andrew M McKenzie: Outofinto, Beatrice Eggers: Nature – Now, Then and Never
---
We Also Recommend
---