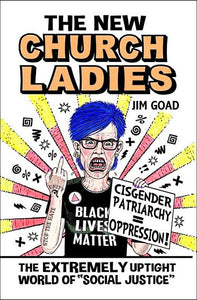 The New Church Ladies | Jim Goad | Signed
Hey, you! That's right—YOU! Do you constantly find yourself grievously offended by racism, sexism, homophobia, transphobia, Islamophobia, xenophobia, hatred, patriarchy, toxic masculinity, rape culture, and bigotry? When you look around, do you find nearly everything "unacceptable" and "problematic"? Do you take psychiatric medication to help you cope with all the world's injustice? Do you walk around wearing diapers on your heart all the time? Are you relentlessly seeking "safe spaces" to get away from all the "microaggressions" that life unfairly hurls at you? Do you cry when people say mean things? Do you classify anyone who disagrees with you as a "fascist," a "bigot," a "hater," a "white supremacist," and a "Nazi"? Do you believe that "hate speech" is different than "free speech"? Do you often mistake mere words for literal violence? Do you think that people should be beaten up, jailed, or even murdered for harboring or expressing "right-wing" thoughts? Have you ever chanted in public with a group of likeminded, politically motivated individuals? Do you think that anyone who disagrees with you should lose their job? Have you ever told anyone to check their privilege? Are you convinced that you're on the "right side of history"? Do you feel "oppressed" even though you've never worked an honest day in your life and still receive handouts from your parents and the government? Do you feel that "social justice" can be objectively defined and ultimately achieved? Do you think straight white males are the primary source of all human suffering throughout global history? If so... YOU'RE THE FUCKING PROBLEM, YOU UPTIGHT, CENSORIOUS, SELF-RIGHTEOUS ASSHOLE! AND YOU ARE RUINING THE WORLD WITH YOUR PSYCHOTIC WITCH-HUNTING, ENDLESS PROTESTING AND BOYCOTTING, AND MOST OF ALL YOUR ABSOLUTELY SMACKABLE LACK OF HUMOR! YOU MAKE THE SALEM WITCH TRIALS AND THE McCARTHY ERA LOOK LIKE A NICE WARM BUBBLE BATH BY COMPARISON!
In "The New Church Ladies," beloved author Jim Goad uses weaponized words, violent rhetoric, debunked and discredited pseudoscience, and shocking, unforgivable hate speech to explain why the people who are always fighting "hate" are the most hateful jerkoffs on the planet...and why anyone who spends their life "shaming" others for not thinking like a perpetually miserable, microchip-implanted, ideologically clubfooted, progressive brainwashed zombie Social Justice Warrior should be ashamed of themselves.
---
We Also Recommend
---