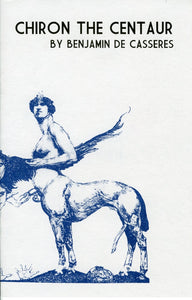 Chiron the Centaur | Benjamin DeCasseres
Originally part of the DeCassere's Books (see benjamindecasseres.com), published in 1937, small publisher Enemy Combatant has released this new retypeset edition of the titular essay.
---
Largely forgotten today, Benjamin De Casseres was a demonic magician of the pen who gained notoriety (and an underground readership) in the 1920's and thirties for his acerbic columns in H.L. Mencken's papers The American Mercury, The Smart Set and The Free Lance. While other writers pretend to defy the categories, De Casseres was the real deal and regardless of whatever literary influences he may have absorbed throughout his life, De Casseres' philosophical reflections always come out as something unprecedented (and deeply nourishing). The absolutely boundless character of De Casseres' mind took him into captivating investigations of Nietzsche, Robinson Jeffers, Percy Shelley, Individualism, Collectivism and, in the case of the imaginative fable Chiron the Centaur, the nature of civilization itself. In critiquing the gigantic fraud of civilization De Casseres refuses to use civilized English in a linear, logical way and instead approaches the entire language as a vast and amusing game—eventually settling upon the word-magic of Myth and Poetry to explode the very structure of civilized "reason".
---
We Also Recommend
---